The Black Satellites of Ghana defeated Uganda 2-0 at the Stade Olympique in Nouakchott, Mauritania, on March 6, 2021, to win the country's fourth U-20 Africa Cup of Nations (AFCON) trophy.
Captain Daniel Afriyie Barnieh scored a brace.
The team won the WAFU Zone B competition before qualifying for the AFCON, defeating Burkina Faso 2-1 in the finals in December 2020.
Many people were concerned about the team's preparedness for the AFCON, especially since most of the players were not actively participating due to the COVID-19 outbreak. Regardless, the team's coach, Karim Zito, stated that they were prepared.
"We had won the WAFU tournament but before the country for Mauritania, there was no active football going on in Ghana and that is always difficult because most of them lacked match fitness, and it is worrying because it takes a lot away from the team, but we were ready regardless and that was seen when we went into the tournament," Coach Karim Zito said.
The team had a perfect start to the tournament, cruising to a 4-0 win over Tanzania in their first game. Sporting Lisbon's Abdul Fatawu Issahaku (then with Ghana Division One outfit Steadfast FC), scored a goal of a lifetime (a long-range effort from his own half) in the game to announce himself to the world.
He reckoned it wasn't new to him.
"Honestly this is not the first time I have scored goals like that. Everyone who knows me knows I am capable of doing things like that. For me, it was quite usual but for the world and other people, it was amazing. I can tell you for a fact that it was this goal that gave me the confidence to play so well in the tournament, and it has been an unforgettable moment for me. I can say it was the best goal of my entire life."
Though the team was not playing flamboyantly, it blended well, and that cohesion was almost palpable.
"We were matured, we knew we had a job to do and that was really it. We stayed disciplined, we stayed together and we were very much determined to prove critics wrong. We just wanted it more and we went on to achieve that," Hearts of Oak's Daniel Afriyie Barnieh said.
Playing in Nouadhibou was difficult for the Black Satellites because the weather was as cold as it could get. Players had to adjust and play in temperatures as low as 2 °C.
Despite the adversities they faced playing in the cold, they sailed through as one of the best third-placed teams and progressed to the knockout stage to play in Nouakchott, a place that was more favourable.
According to Coach Karim Zito, the team was motivated to reach the AFCON final to qualify them for the World Cup. Despite suffering a setback in morale when they lost to The Gambia in their last group game, they bounced back against Cameroon, edging them 4:2 on penalties in the quarter-finals to set up a semi-final clash with familiar foes The Gambia.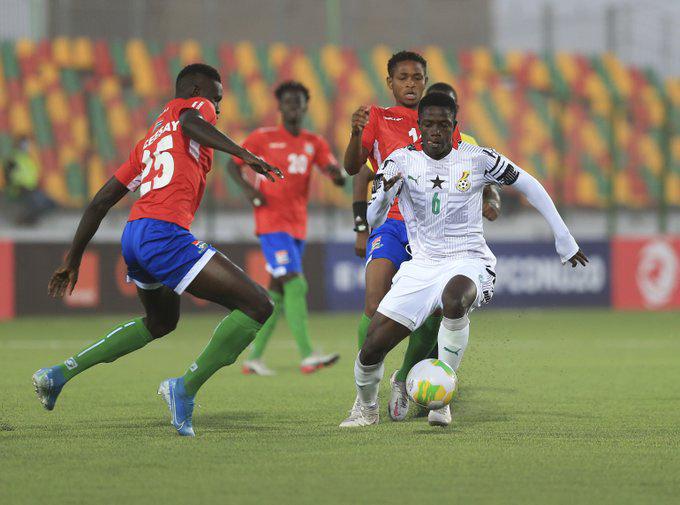 The Gambia proved to be a strong opponent for the Black Satellites. But this time, Ghana had the upper hand, edging them through Percious Boah's 34th-minute lone goal to book a place in the final. And once they were at the final, they were even more determined to win it.
(Visited 17 times, 1 visits today)